Submitted by
Steve
on Sun, 25/02/2018 - 22:07
Dear all
A rather unusual work party took place last week at Burslem Port. The Trust booked a flail mower with operators to be brought to site to cut back overgrowth along the whole site. This is a very powerful machine which can cut through brambles in the same way that a domestic mower cuts through grass. Over the day the team worked through the whole site and made a really significant difference. The photo below shows the operators clearing the large area near to the former Co-op Bakery. Thanks also to volunteer John who came along to help on the day. He is seen in the background here, tending the bonfire.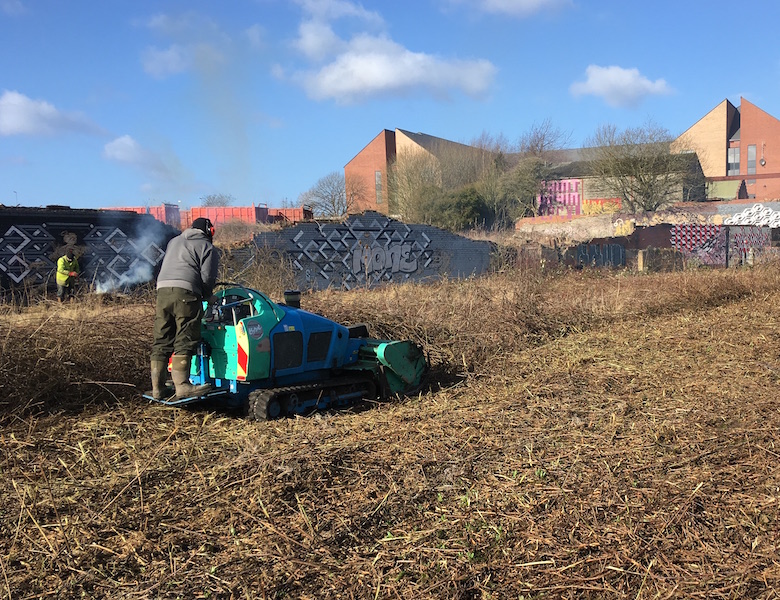 Our next few work parties will build on this work. There is lots of cut vegetation to burn and areas that the flailer could not get to need to be tackled with the brush cutter.
As most if not all of you will be aware, there are severe weather warnings in place for the next few days. I've just looked at the latest forecast for Tuesday 27th February, the date of our next work party, and the present prediction is "Light snow showers and breezy" with temperatures around zero, but a wind chill bringing that down to -6 degrees, making a potentially quite uncomfortable day to be outdoors. Accordingly, I have taken the decision that we will cancel this work party. It seems fairest to give everyone sensible notice of this rather than calling it off at 7am on the day, so that people can replan if they have opportunities to do other things.
As previously reported, our friends and neighbours from Middleport Matters will be hosting a litter pick across Middleport on Saturday 3rd March as part of the Great British Spring Clean. This will replace the scheduled work party on that date for those who wish to attend. If you would like to join in, please go to the pavilion in Middleport Park at the usual time. It would be great if we can support the event for a third year, though unfortunately I am out of the area from Friday to Sunday so cannot make it.
Our next scheduled work party is Tuesday 27th March, however I would like to see if there is an opportunity to make up for lost time by hosting an additional work party on Saturday 10th March. Can I please ask anyone who would be interested in attending on this day to let me know and if there is sufficient interest we will go ahead. (I will confirm this to the people who have been in touch if this is the case.)
In April there will be a work party on Tuesday 24th but there may not be a Saturday event as I am at an Inland Waterways Association conference on 7th April. If any of our regular volunteers would be happy to lead this day please let me know and we will arrange this.
Work parties run from 10am to 3pm. Volunteers are welcome for a couple of hours or all day. Meet at Luke St, Middleport, Stoke on Trent, ST6 3LY. All tools and equipment will be provided. Volunteers are advised to wear old clothes, stout shoes and to bring waterproofs in case of rain and a packed lunch if staying all day. For further information please contact me, Steve Wood, on 07976 805858 or by email steve@burslemport.org.uk. Please let me know if you are planning to attend and I will make sure that you are aware if any event has to be altered or postponed.
Regards
Steve (work party organiser)