Submitted by
Steve
on Thu, 01/12/2016 - 23:48
Firstly a very Happy New Year to all of our friends and supporters. Some of you will be receiving this newsletter for the first time as our mailing list has recently been updated with the contact details of people who have got in touch at events or via the website. Thank you for expressing your support.
The New Year prompts us to reflect on what has been achieved so far. In 2016 we hosted 20 work parties on the line of the canal, equating to over 500 hours of volunteer time. This is a fabulous achievement and has allowed us to make great progress in clearing and improving the site. Thanks to everyone who has joined us.
The year has not been without its challenges, with rain at just the right time (or wrong time, depending on how you look at it) meaning that regrowth of trees and other vegetation was greater than the year before. Our first few work parties after the summer break were spent getting back to where we had been some months before but the acquisition of a brush cutter allowed us to make faster progress than in previous years.The clearing of the footpath at the bridge gained some positive local comments and a bit of publicity for the project. One of our regular volunteers Dave arranged to have some signs made to put up on the site to publicise what we are doing. At this stage of the project, raising awareness is as high a priority as the physical work we do on the site. Please do spread the word to anyone you think might be interested. There is a brochure on the website which summarises the project very well for those who want more information.
Our priority at present is to continue clearing trees and vegetation along the line of the original towpath. We want to encourage walkers to use this route rather than the various other uneven tracks through the site which have been created over the years. It is hoped that a path from our site through to Festival Park will be created in the next year or two, as we want to make it as easy as possible for people to discover the Burslem Branch Canal.
Our pattern of two work parties a month will contine, with one on the first Saturday and the other on the fourth Tuesday. The first one will be this coming Saturday, 7th January, followed by Tuesday 24th January. Work parties run from 10am to 3pm.  Volunteers are welcome for a couple of hours or all day.  Meet at Luke St, Middleport, Stoke on Trent, ST6 3LY. All tools and equipment will be provided. Volunteers are advised to wear old clothes, stout shoes and to bring waterproofs in case of rain and a packed lunch if staying all day. For further information contact Steve Wood on 07976 805858 or by email steve@burslemport.org.uk. Any changes are advertised via our Facebook and Twitter pages, as that is the quickest way to reach people. Please let Steve know if you are planning to attend and he will make sure that you are aware if any event has to be altered or postponed, for example in the event of very poor weather.
We will be joining forces with our friends at Middleport Matters for The Great British Spring Clean on Saturday 4th March, and hoping to repeat the huge success of last year's Clean for the Queen event. Please come along and help tidy up Middleport and show everyone how much we all care about this special area.
We are alway looking for more volunteers so if you think that you would enjoy wielding a bowsaw, pair of loppers or the brushcutter, or indeed if you are happy to tend the bonfire we'd love to hear from you. As the weather improves we will also be doing more painting and a number of other tasks. We are particularly looking for someone who has a first aid qualification to join us, as we cannot use our power tools without a first aider on site.
Thanks as ever for your support. We look forward to seeing some of you at the weekend.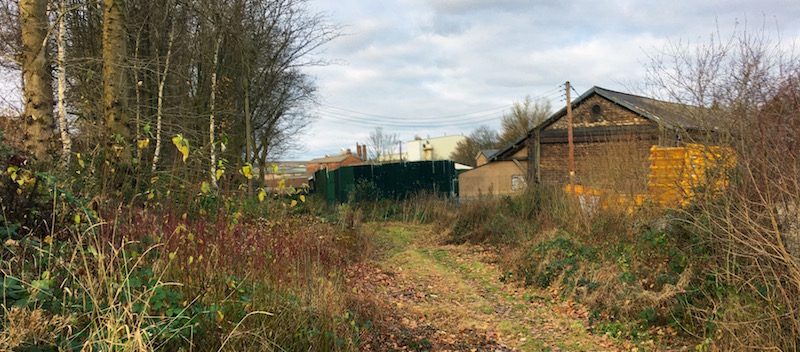 View along the line of the canal towards the warehouse, December 2016