Submitted by
Steve
on Sun, 23/10/2016 - 09:12
Dear Burslem Port supporter
Work parties
Please note that there will not be a work party this coming Tuesday, 25th October. Unfortunately although we have a number of potential volunteers we do not have a leader available. The next events will be Saturday 5th and Tuesday 22nd November. These are confirmed and Steve will be leading.
Work parties run from 10am to 3pm. Volunteers are welcome for a couple of hours or all day. Meet at Luke St, Middleport, Stoke on Trent, ST6 3LY. All tools and equipment will be provided. Volunteers are advised to wear old clothes, stout shoes and to bring waterproofs in case of rain and a packed lunch if staying all day. For further information contact Steve Wood on 07976 805858 or by email steve@burslemport.org.uk. Any changes are advertised via our Facebook and Twitter pages, as that is the quickest way to reach people. Please let Steve know if you are planning to attend and he will make sure that you are aware if any event has to be altered or postponed.
Recent progress
Our September work parties concentrated on cutting back the summer regrowth. This has been a particularly good growing year which is great for nature but gives us lots of work to do to keep the site looking good.
We are looking to see if there is any way we can mechanise some of the vegetation management so that our volunteers can concentrate on other tasks. Unfortunately this is not an easy site to get a tractor to at present, but we are continuing to explore ideas. Do let us know if you have any suggestions or can help out.
Other news
Over the past month the landmark Co-op bakery has been demolished. In recent times the lower parts of the building had been used by a number of graffiti artists, a couple of whom had painted very impressive pictures with waterway themes. It is a very strange sight indeed at the moment, as the picture below shows. We can only hope that this sad loss is soon replaced by new canalside developments.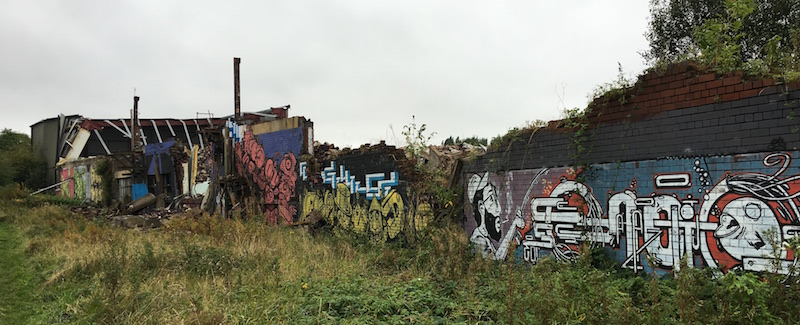 Thank you for your support
BURSLEM PORT TRUST