Submitted by
Steve
on Mon, 28/03/2016 - 09:13
Dear Burslem Port supporter
Welcome to this, our first monthly newsletter. We will use these messages to keep you informed about what is happening and to invite you to get involved in our project. We have subscribed everyone who has previously expressed an interest in our project to this newsletter as it will give us an easier way of staying in touch with you all. If you do not want to receive these messages click the link at the bottom of the message which will unsubscribe you from the mailing list. You can resubscribe at any time by entering your email address to the Monthly newsletter link on our website.
New website
A completely updated website was launched this week. This one is mobile friendly, very important as people now access the Internet with phones and tablets at least as much as they do with laptops and PCs. There is a new section showing the history of the canal and the project description pages have been updated. We hope you find it interesting. More pages will be added over the coming weeks, and anything significant will be mentioned in future newsletters.
Clean for the Queen
Thanks to everyone who came out on our hugely successful event in association with Middleport Matters on 5th March. Canal & River Trust supplied a small boat and trained volunteers who used it to remove floating rubbish along the Trent & Mersey Canal whilst Burslem Port volunteers picked litter along the line of the Branch Canal. A group of young people from the YMCA were dispatched along the towpath and the local Boys Brigade worked outwards from Middleport Park. A total of 53 volunteers collected around 70 bags of rubbish in a very busy and successful day. Good publicity was generated for Burslem Port and Middleport Matters with the cleanup prominently featured in local media, including a live Radio Stoke interview at the start of the day.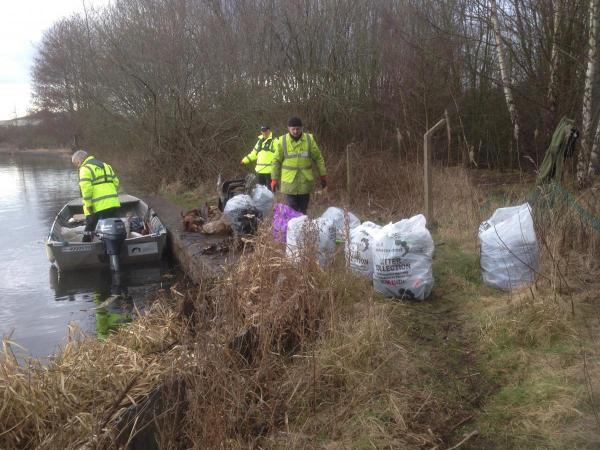 If you want to know more about Middleport Matters you will find them on Facebook by following this link.
Upcoming work parties
Our April* work parties will be on Saturday 2nd and Tuesday 26th. It looks like our main task will be to carry on litter picking and tidying the area next to the Trent & Mersey Canal where we worked during the Clean for the Queen event. We hope that this area will be improved as a walking route between Burslem Port and Festival Park, and are talking to the City Council, who are the landowners, about this project. We hop to have news in the next few months.
Work parties run from 10am to 3pm. Volunteers are welcome for a couple of hours or all day. Meet at Luke St, Middleport, Stoke on Trent, ST6 3LY. All tools and equipment will be provided. Volunteers are advised to wear old clothes, stout shoes and to bring waterproofs in case of rain and a packed lunch if staying all day.
For further information contact Steve Wood on 07976 805858 or by email steve@burslemport.org.uk
Appeal for volunteers
As much as it is great to have your support for our work parties, that is not the only kind of volunteer we are looking for. Over the next few months we will be undertaking an interpretation project so will need people who can help with this. The project will involve looking for historic information, sorting photographs and other materials, scanning of printed materials, planning and writing the trail, adding pages to our website, and a range of other tasks. Please get in touch if you think you can assist with any of this. We are also looking to build a digital model of the project area, so we are particularly interested in hearing from anyone who has worked with 3D modelling software. Please get in touch by replying to this email or by using the contact form on the website.
Thanks for your support!
Steve
Work party organiser and website manager
* corrected typo from March in email version