Submitted by
Steve
on Mon, 21/01/2019 - 10:14
Dear all
This is the first newsletter of 2019 and although it feels a little late to say it I wish you all a very Happy New Year. It certainly is an exciting time for the project, as this year will see the most significant works we have ever undertaken on the site. The first part of the year will be spent preparing the site in preparation for ground works in April or May, with path laying to follow after that. We are hoping to lay the path over consecutive days for one or two weeks as this is easier in terms of both material deliveries and hired in equipment, so will be looking for groups who might want to be involved for one or more of those days. More information on this nearer the time, but if you are part of a group of 6 or more people who might be interested in taking part, please get in touch.
Thanks to everyone who came to our meeting at Middleport Pottery on 24th November. Following an introduction from our Chairman, Roger Savage, Andy and I gave presentations about the project, followed by a series of workshop discussions about different aspects of the project. There was then a walk of the site, where our plans and ideas for each area were explained. We had some really great suggestions and offers of support during the day, which we are still looking through. We will be in touch with those of you who left your details, as soon as we can.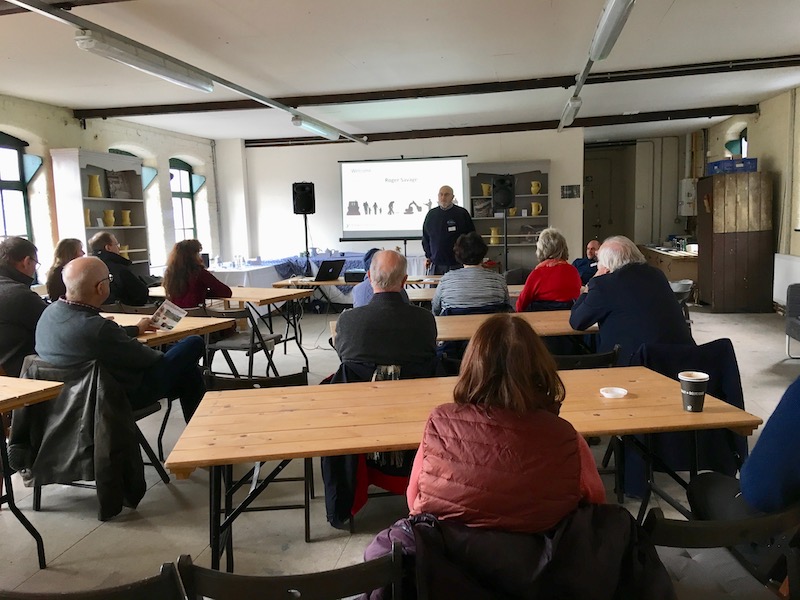 Roger Savage introduces the public meeting at Middleport Pottery, 24th November 2018
Potto Lotto
This has been a real success for us, so thanks to everyone who has taken part. We already have a number of both regular and occasional donors but can always use more. Potto Lotto provides you with a weekly chance to win £25,000 for £1.00 and provides funds to much needed good causes across the City of Stoke-on-Trent. Each ticket purchased through the Burslem Port Trust page and entered the draw provides us with much-needed financial support to carry on the work we are doing.
Work parties
There has been a bit of correspondence over the weekend with volunteers about the weather for this month's work party, which is due tomorrow. It snowed in the area a couple of days ago and it is likely that this will happen again at some point tomorrow. It is going to be very cold, with temperatures around freezing. In fairness to our volunteers we would prefer to make a decision in advance rather than at the last minute so have decided to call this month's work party off. Even if it does not snow, the conditions are not really suitable for the work we need to do at present. The next work party will therefore be on 26th February and I hope to see some of you there.
Regards
Steve (work party organiser)