Submitted by
Steve
on Thu, 11/02/2021 - 14:41
Dear all,
It has been some time since we were last in touch! Despite the confusion of the last year, I am excited to be able to deliver some positive news and updates. Throughout lockdown, BPT have been working with Moss Naylor Young on practical steps towards restoring the Burslem Branch Canal. These steps include bids for funding to restore more of the canal and create community resources from the historic canal buildings, including the Wharf and Warehouse.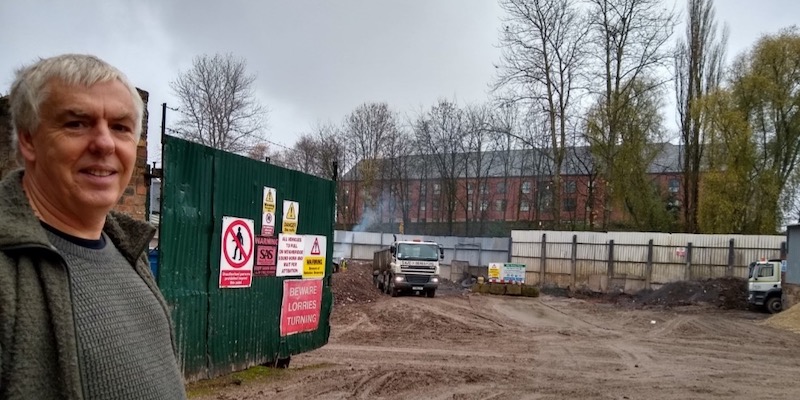 Pictured: Steve Wood, BPT Work Party Manager and Trustee visiting the wharf and warehouse site aka Potteries Waste Ltd on Navigation Road, Burslem. The edge of the canal runs exactly along the line of the fence.

All being well, volunteer work clearing the towpath for our 'Footsteps' project will resume in April. After a year of reduced activity this might be quite the task! We look forward to seeing familiar faces when our work parties resume. Another development towards 'Footsteps' is a new open call for local artists and community groups responding to the Burslem Branch Canal. Selected artworks will be exhibited along the canal footpath. The open call poster is attached below, please do share with anyone you feel may be interested!

Our big news is a new community consultation which is now live. This short survey will discuss different projects relating to the restoration of Burslem Port and will help us to understand which areas to focus on. We would be extremely grateful if you could complete this consultation and share it as widely as possible. Any feedback will be extremely valuable in evidencing the community's desire for the restoration of the canal. Please click here to take part in our consultation.
Potto Lotto
Just a reminder that Potto Lotto is an easy way to support us! Potto Lotto provides you with a weekly chance to win up to £25,000 for £1.00 and provides funds to much needed good causes across the City of Stoke-on-Trent. Each ticket purchased through the Burslem Port Trust page provides us with much-needed financial support to carry on the work we are doing.
Thanks to everyone who has signed up and if you haven't done already so then do please consider it as another easy way to support our ongoing work.
Regards
Steve and the BPT Team