Submitted by
Steve
on Fri, 20/09/2019 - 09:35
Dear all
It feels like it has been some time since I was last in touch but I'm happy to say that after the usual summer break our work parties will get going again next Tuesday. We will have plenty of tidying up to do across the site, not least because on the following Saturday a number of visitors from the Inland Waterways Association, whose AGM is in Stoke over the weekend, will be on a tour around the site, which I will be leading. It is a good opportunity to tell people about our project and I'd like to get the site looking as good as we can for our visitors.
This time of year is always busy for us as we start to cut back summer regrowth and I hope we can get a good turnout of volunteers to help trim back vegetation, strimming, litter picking and generally making the site look more attractive.
Meeting time and location will be the usual, Luke St, Middleport, Stoke on Trent, ST6 3LY at 10am on Tuesday, 24th September. Work parties run from 10am to 3pm. Volunteers are welcome for a couple of hours or all day. All tools and equipment will be provided. Volunteers are advised to wear old clothes, stout shoes and to bring waterproofs in case of rain and a packed lunch if staying all day. For further information please contact me, Steve Wood, on 07976 805858 or by email steve@burslemport.org.uk. If you are a new attendee please let me know you are coming so that I can ensure we have appropriate equipment for everyone.
The next date after that would normally be 22nd October but I am not available that day so am proposing 29th as an alternative. Could volunteers please let me know if that suits. The following date, for you diary, will be 26th November at which we can also discuss whether people want to do 24th December or not!
Potto Lotto
This continues to be a really good fund-raiser for the Trust. Potto Lotto provides you with a weekly chance to win up to £25,000 for £1.00 and provides funds to much needed good causes across the City of Stoke-on-Trent. Each ticket purchased through the Burslem Port Trust page and entered the draw provides us with much-needed financial support to carry on the work we are doing. 50% of each ticket sale comes directly to us with another 10% going to other good causes across the City.
They have a special promotion running at present, details of which are on the leaflet below.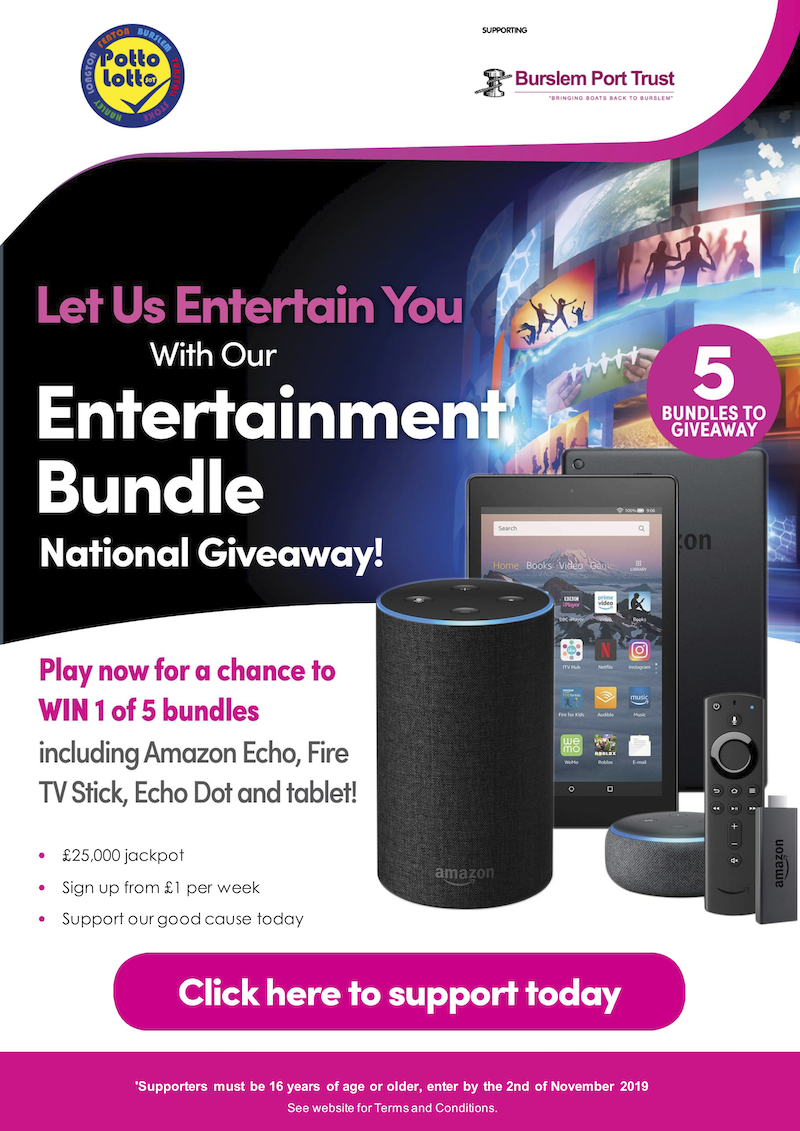 Thanks to everyone who has signed up and if you haven't done already so then do please consider it as another easy way to support our ongoing work.
Regards
Steve (work party organiser)