Submitted by
Steve
on Wed, 21/11/2018 - 08:45
Dear all
It has been a really exciting week for us at Burslem Port, with the announcement on Monday of a new footpath and publication of a new strategic action plan. This update is longer than usual, but I hope you find it all interesting.
"Footsteps" Project
The first step in the grand vision is for the construction of a footpath, following the line of the former canal towpath. Interpretation along the route will tell visitors about the area's fascinating industrial heritage. Funded by grants of £45,000 from the Council's Community Investment Fund and £5,000 from the Canal & River Trust, the Footsteps project will be delivered by Burslem Port Trust volunteers and work is expected to start in the New Year. The Trust invites anyone who would like to get involved in this exciting project to a meeting at Middleport Pottery on Saturday 24 November, 10:30am – 12 noon. Please do come along if you can.
Action Plan
The new long term strategic action plan, produced by Peter Brett Associates, was presented to key stakeholders and local businesses at a special meeting held on Monday 19 November at Middleport Pottery.
The report concludes that key economic outputs from restoration of the disused canal arm would include the creation of 133 new jobs, 270 new canalside homes, 6,500 extra annual visitors and up to 2,300 boat movements per annum. The report predicts the project could attract inward investment of £16 million worth of construction, creating nearly 300 temporary jobs.
Roger Savage, Burslem Port Trust chairman said: "This month marks a really exciting step change in plans to restore the Burslem Branch Canal. This short canal arm has been closed since 1961 when a breach occurred near its junction with the mainline Trent & Mersey Canal. Over the years, the bed has been filled in and is now in the hands of several land owners.
The Canal & River Trust, which cares for 2,000 miles of the nation's canals, including the Trent & Mersey, is a major supporter of the project. Enterprise manager Simon Papprill said: "Canal restoration has been a major catalyst for urban regeneration in many UK towns and cities. It is a well proven formula for promoting successful development and economic prosperity. We know people feel happier and healthier by water, so this restoration would bring significant benefits for residents."
David Frost, chairman on Stoke-on-Trent and Staffordshire Local Enterprise Partnership, said: "It is great to see this important piece of Stoke-on-Trent's industrial heritage being brought back to life. It will be a valuable addition to the growing range of tourism, cultural and leisure destinations developing in and around the city, making Stoke-on-Trent an increasingly attractive place to visit, and will also contribute to our wider plans to regenerate Etruria Valley."
The completed project would deliver:
A restored canal arm
Recreation facilities in the historic wharf area, including children's play area, cycle hire and nature walks.
Outdoor and sporting activities along the canal, such as fishing, cycling, walking, canoeing and paddle boarding.
Attractive waterside living for the Slater Street area and the former Co-Operative Bakery site.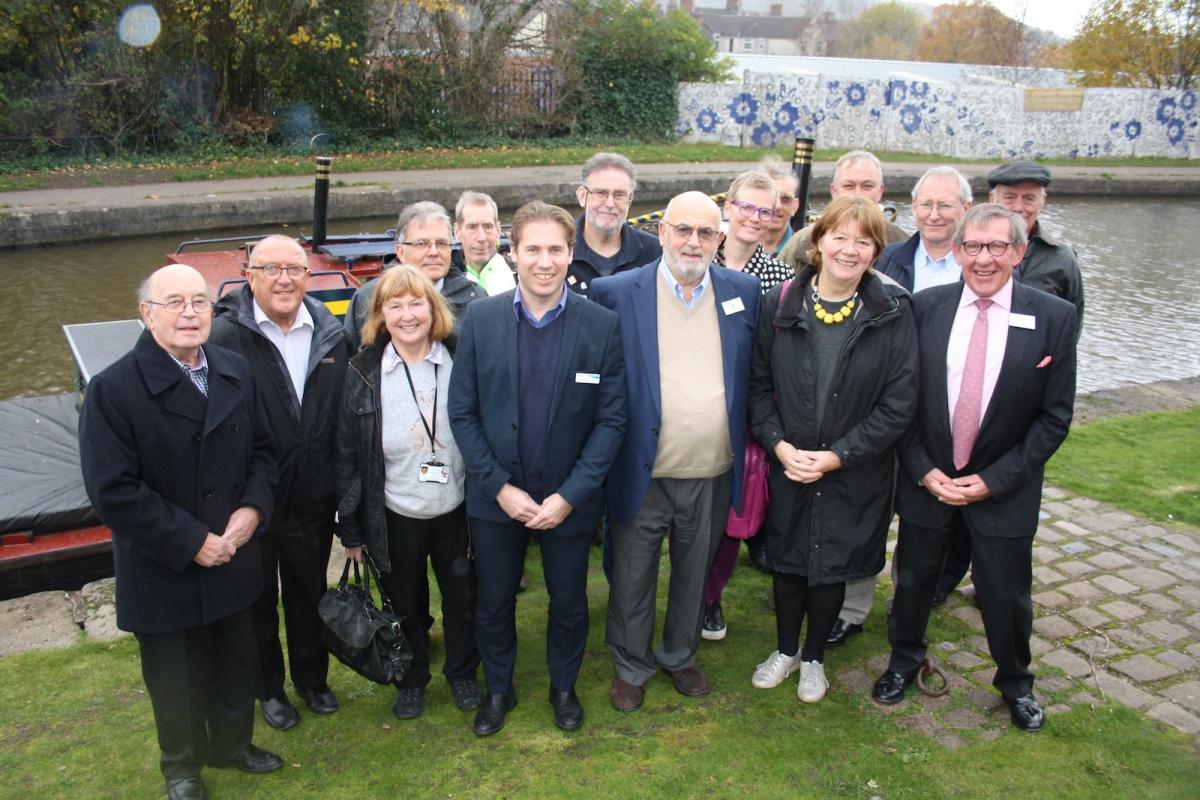 Some of the attendees at the launch of the Burslem Port Strategic Action Plan, 19th November, 2018
Potto Lotto
Thanks to everyone who bought tickets last month, your support has been greatly appreciated. For those who are new to our newsletter this month, Potto Lotto provides you with a weekly chance to win £25,000 for £1.00 and provides funds to much needed local good causes. Burslem Port Trust are a registered 'Good Cause' and therefore benefit from the money raised through their web page on the Potto Lotto site. Each ticket purchased through the Burslem Port Trust page and entered the draw provides you with a chance to win £25,000 and provides us with much needed financial support to carry on the work we are doing in the area to re-create the historical Burslem Arm of the Trent and Mersey Canal, providing jobs, housing and a unique environment in the heart of the city.
Work parties
And finally... The last work party of the year takes place next Tuesday, 27th November. Please come along and help us continue clearing vegetation along the line of the canal, in preparation for the projects next year.There will be no work party in December as this would fall on Christmas Day and we guess that many of you will have other plans! The first work parties of the New Year will fall on 22nd January and 26th February.
Work parties run from 10am to 3pm. Volunteers are welcome for a couple of hours or all day. Meet at Luke St, Middleport, Stoke on Trent, ST6 3LY. All tools and equipment will be provided. Volunteers are advised to wear old clothes, stout shoes and to bring waterproofs in case of rain and a packed lunch if staying all day. For further information please contact me, Steve Wood, on 07976 805858 or by email steve@burslemport.org.uk. Please let me know if you are planning to attend and I will make sure that you are aware if any event has to be altered or postponed.
Regards
Steve (work party organiser)